Around the world, organizations and educators are adapting to the new norm of digital workplaces and distance learning. To help, we've accelerated the launch of many new features for Google Meet—from background blur that allows you to focus on the person in front of you, to digital whiteboards that inspire creativity, to tiled layouts that make group conversations even easier to follow.
Starting next week, we're rolling out two new highly requested features, Q&A and Polls, to G Suite customers. We built these features from the ground up based on customer feedback to ensure they make meetings and classes feel immersive, spur interaction, and drive efficiency.
Here are some tips on how you can use them in your upcoming meeting or class.
1. Break the ice: fun polls to kick start the meeting
Jumping from one video meeting to the next can be challenging for many people, so it's important to periodically take the time to pause, engage with teammates, and help get to know one another. Polls are a great way to do an icebreaker, and when used at the start of the meeting they are a great way to capture everyone's attention and be present in the moment.
Here's an icebreaker that you can try in your next meeting: "If you could time travel, would you want to go to the past or future?"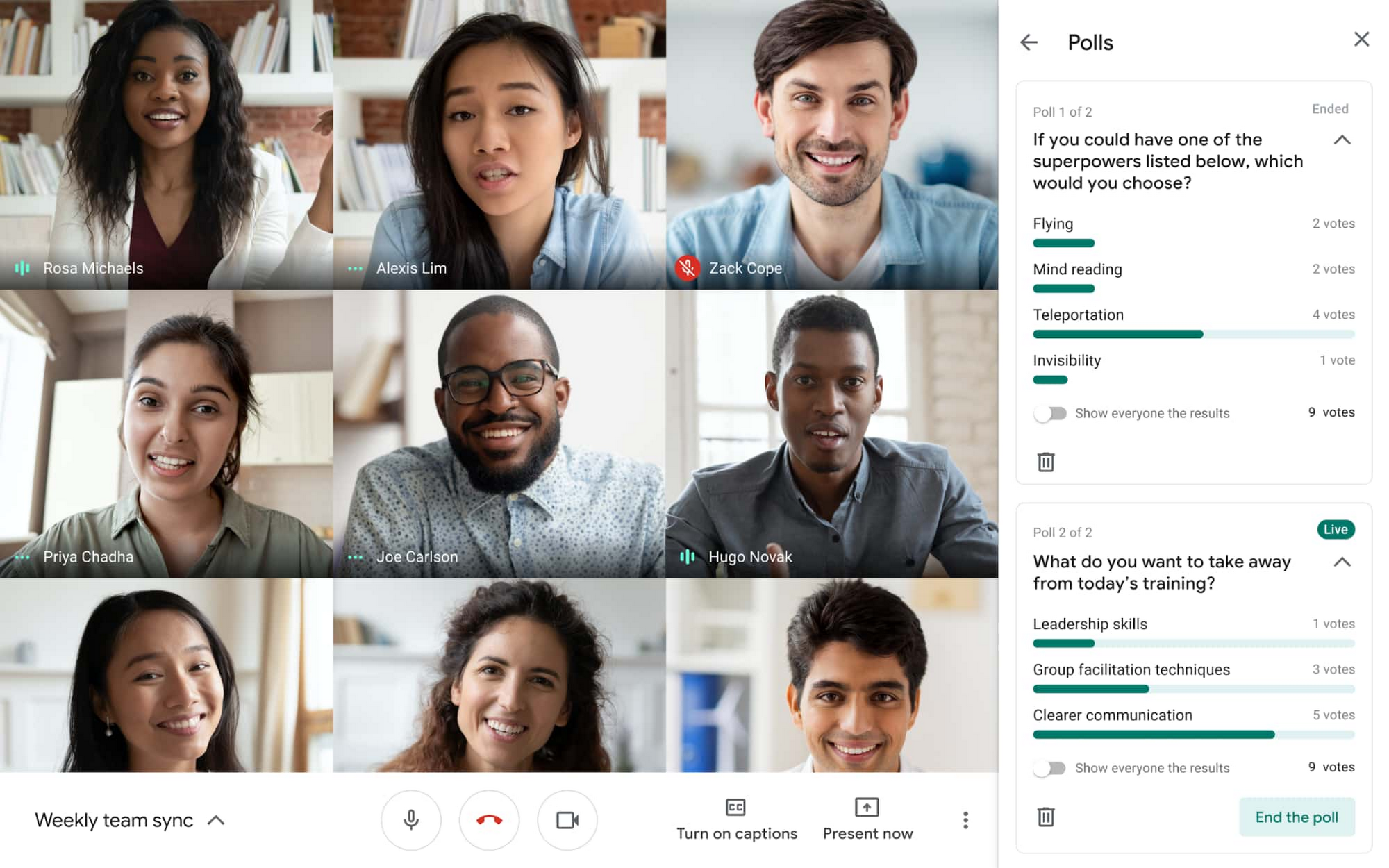 2. Quickly gather feedback during the call
Whether it's identifying topics that need more discussion or testing comprehension, polls are a great way to quickly get a pulse of your audience. If you are hosting and presenting in the meeting, join the call a few minutes early and set up poll questions to gather reactions and engage the group throughout the meeting. The host can set up multiple questions, viewable to only them, and launch the poll when it's timely during the call. Meeting hosts also receive a report with the tally of the results to make it easy to refer back and take action.
3. Make the audience feel like they are part of the presentation
Polls are a great way to bring life to a meeting by involving your audience during your presentation. Not only does this help keep your audience captivated, but it also helps to make meetings more fun. For example, one of the most memorable meetings I've attended used a format of asking the audience a poll question, displaying the results, then following up with an insight that often contradicted what most of the audience believed. I can't say I had the most correct answers, but I will say that we all had fun and it kept an audience of nearly a hundred people on their toes.
4. Give everyone a chance to ask questions
To give everyone the opportunity to ask questions—including those who might be too timid to speak up on camera, people who process information better in written form, or parents who might be working with their kid's school going on in the background—try the new Q&A feature in Meet. At the start of the meeting, encourage participants to submit and upvote their favorite questions. We've also found it helps to tell your audience when you plan to answer these questions, either throughout the call or at the end. During the call, teammates can submit and upvote questions without disrupting the flow of the meeting or an important presentation. To help you prioritize questions as they come in, you can sort them by Most Popular, Oldest, and Newest, hide questions that may be duplicates, and mark questions as answered.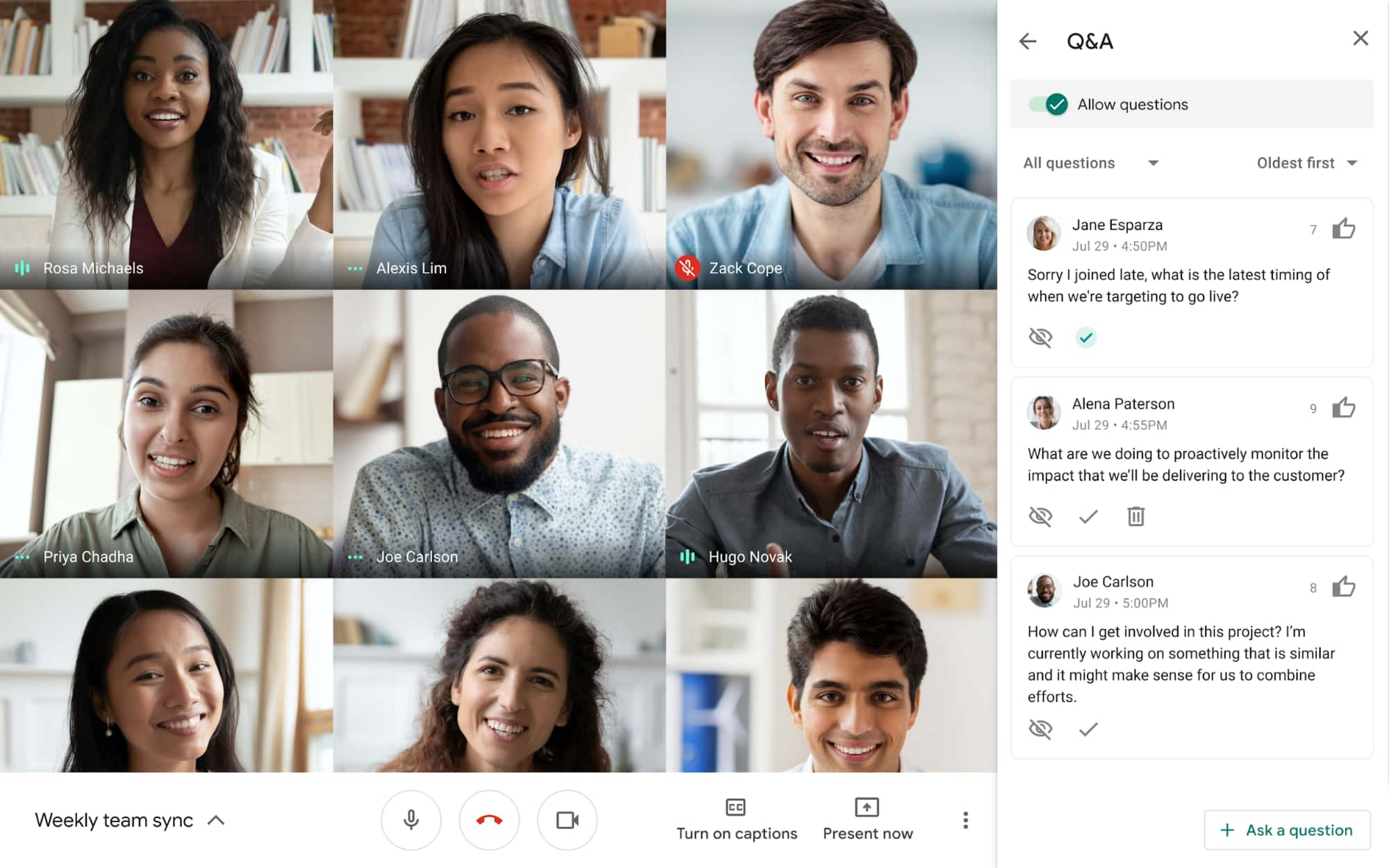 5. Don't forget to follow-up on open questions after the call
In larger meetings, more people typically translates to more questions. If you aren't able to answer all submitted Q&A questions because you ran out of time or didn't have the answer offhand, you can securely receive a copy of the questions asked and who asked them so you can follow up after the call.
Get the most out of Google Meet
In the coming months, we will continue to roll out previously announced features like breakout rooms, hand raising, and more to help G Suite customers more efficiently connect over Meet. To learn more about the other advanced Meet features like Q&A and Polls which are only available in the G Suite Enterprise, G Suite Enterprise for Education, and G Suite Essentials editions, visit here.