With WhatsApp steadily adding up nearly a billion users who use the app to be socially connected and enjoy photos and videos with friends and family or share valuable information and communicate with colleagues and peers, the question of backing up all that data, other than device memory, has been answered.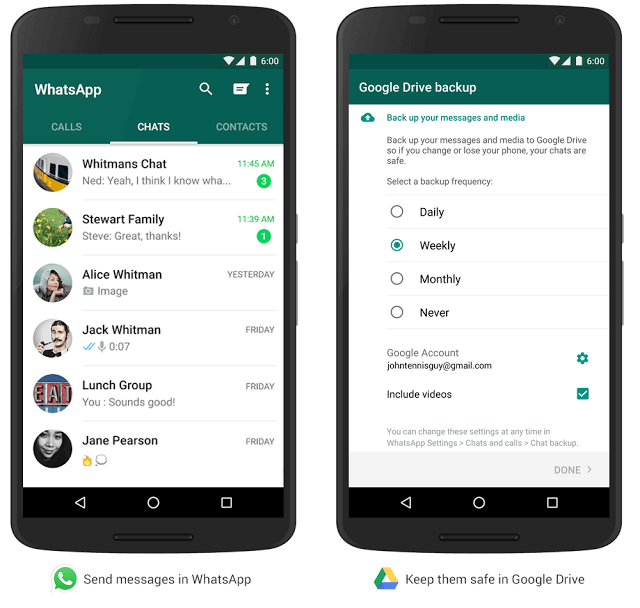 WhatsApp users weren't quite satisfied with their data stored only on their devices, since they are vulnerable to theft, malfunctions and physical damages. So, WhatsApp for Android will allow the users to store the backup all of their WhatsApp data in Google Drive. With all their WhatsApp data backed up in Google Drive, it can be completely restored on another device with ease. A blog post attributed to Google Drive announced the development and confirmed that this new feature to be deployed over the next few months, will allow users to create a backup for their photos, videos, chat history and voice messages in Google Drive. The more apps integrate with Google Drive in this manner the better it might get.
The Google Drive backup feature will let users forget the local drive on their computer where they stored important photos, video clips, numbers and addresses, taking data storage to Cloud. However, the photos and videos that are backed up don't get diverted to Google Photos automatically. No wonder, it can be expected that in the near future the backup and share functionality will smoothen and get smarter over time. Also it should be noted that this feature will delight the android users exclusively as it won't be available on iOS, at least not yet.
It is believed that WhatsApp dev team was experimenting with a robust backup and restore option for media and chat history as early as April '15 with Google Drive, since many users claimed to have seen the feature pop up in their devices. However, after a short while it was taken down. With an app update in July '15, the feature was made available to certain select users in the version 2.12.194. Now with a formal announcement in the blog post, the backup feature will be made available to all Android users in a few months.
In the WhatsApp for Android version (2.12.194), backup notifications will request access to the Google Drive folder at 4 am, which happens to be the default time for chat/media backup. WhatsApp's Google Drive backup feature can be found in the app's Settings. For backing up their data, users will be required to enter a valid Google account where their files will be backed up for future use. Users can turn off the auto-backup option if they will and can also control the frequency with which their data is backed up ranging from daily, weekly, to monthly. Users can also choose whether to use backup only on a Wi-Fi connection, network data or both.
Scott Johnston, the Director of Product Management who announced the news, hinted the users to keep an eye out on WhatsApp settings, over the next few months, to see if the new backup feature becomes available to them.